Metro Flint YouthBuild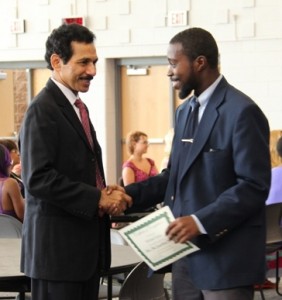 The Metro Flint YouthBuild (MFY) program is funded by the U.S. Department of Labor to provide disadvantaged youth, ages 18-24, with education, job training, and employment opportunities. The Metro Flint YouthBuild program is made up of several collaborative organizations that share a common goal to provide low-income, young adults in Genesee County with academic support to obtain their GED and job-readiness skills focused on the construction trades. Comprehensive support services are also offered to assist MFY students in meeting basic living, health, and financial needs to ensure a successful transition from their role as a MFY student into a sustainable career pathway. Strong emphasis is placed on leadership development, community service and post-secondary certification in a high-demand industry.
Click Here to View the Video on Our YouthBuild Program
While earning their GED and building affordable homes, participants will select from among six career pathways: Building and Construction, Advance Manufacturing, Health Care, Agriculture and Food Systems, Technology, or Entrepreneurship. After attaining their GED, each MFY participant receives a scholarship to a post-secondary certification program. During the 12 month follow-up, support for employment and additional educational opportunities are provided. Participants are also given opportunities to contribute to the community and to become leaders in their families and neighborhoods.
MFY is a community driven initiative with resources given by key partners such as the U.S. Department of Labor, Metro Community Development, Mott Community College, Michigan Works! Career Alliance, Habitat for Humanity, C.S. Mott Foundation, Life Restoration-Direct Impact, Michigan Department of Health and Human Services, and the City of Flint. We are a family. Come and join us.
MFY is currently accepting applications for our next class. Applications can be found below or you can apply in person at the Oak Business Center located at 2712 Saginaw Street, Flint, MI 48505. For more information about the Metro Flint YouthBuild program, please call (810) 341-1824.
To apply for the Metro Flint YouthBuild program, click on the link below to fill out an application.